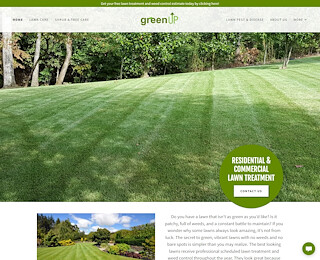 If you are looking for lawn care in Little Rock AR, call GreenUp. We will help make your lawn green, lush, and healthy.
What Does Our Lawn Care Service Cover?
We offer complete lawn care in Little Rock, AR. Maintaining your lawn year around is essential if you want a beautiful lush green lawn free of weeds. It is never too late to start. We can implement our complete lawn care plan at any time of the year.
Our complete Green Up lawn care plan has eight treatments a year. We have found in our experience your lawn will be healthy and look its best with this specific treatment plan.
Each lawn is different and has different needs. We inspect and determine the condition of your lawn. We need to address any concerns such as weeds and bare spots at the beginning of any yard care plan. Our goal is a healthy, green yard that you can enjoy. Most people never consider that their lawn is a living system and requires proper nutrients and specialized care.
Do I Have To Re-Sod?
Here are three possible scenarios when you may need to re-sod your lawn:
Weeds have entirely overtaken your yard.
When you walk in your yard, does it feel spongy and soft?
50% of your yard is dead or dying.
Re-sodding is an expensive procedure, and we try to avoid it if possible. We want you to love your lawn. Sometimes you can save your yard with a few simple modifications. If you have Bermuda grass, we can usually bring your yard back to its former glory. Bermuda grass spreads quickly, and you only need to have a few good patches of it in your yard. We can often save you thousands of dollars by using your existing patches of Bermuda grass and giving it the right conditions to spread.
Call us, and we will be happy to give you a free report on what steps we need to take to return your yard to a healthy state.
What Other Services Do We Provide?
We offer complete lawn care in Little Rock AR, but we also provide the following:
Shrub and Tree Service
Lawn Pest & Disease
If you want to have beautiful, healthy shrubs and trees, you must prevent disease and insect infestation. Providing proper nutrients will help your shrubs produce full blooms and full, lush leaves. We help keep your trees and shrubs healthy, and this helps them resist disease.
There are certain pests your lawn can have:
Grubs
Chinch Bugs
Sod Webworms
Armyworms
Cutworms
There are some common Arkansas lawn diseases, such as:
Dollar Spot, which is common in early spring and produces small circular brown areas.
Pythium Blight is small spots that join together to become slimy and dry up and die.
Take All Patch is a root rot disease caused by a fungus.
We can help treat and prevent most common lawn problems. Year around maintenance and proper feeding of your lawn will keep your yard healthy and beautiful year-round. Contact GreenUp today, and let us keep your yard healthy and green.
Lawn Care Little Rock Ar
We welcome your comments!
Working With Green Up is Easy
Call or Fill Out the Contact Form

Get Your FREE Quote

Start Your Service
Areas we service
Little Rock
Jacksonville
Cabot
Mayflower
North Little Rock
Alexander
Austin
Gravel Ridge
Sherwood
Bryant
Maumelle